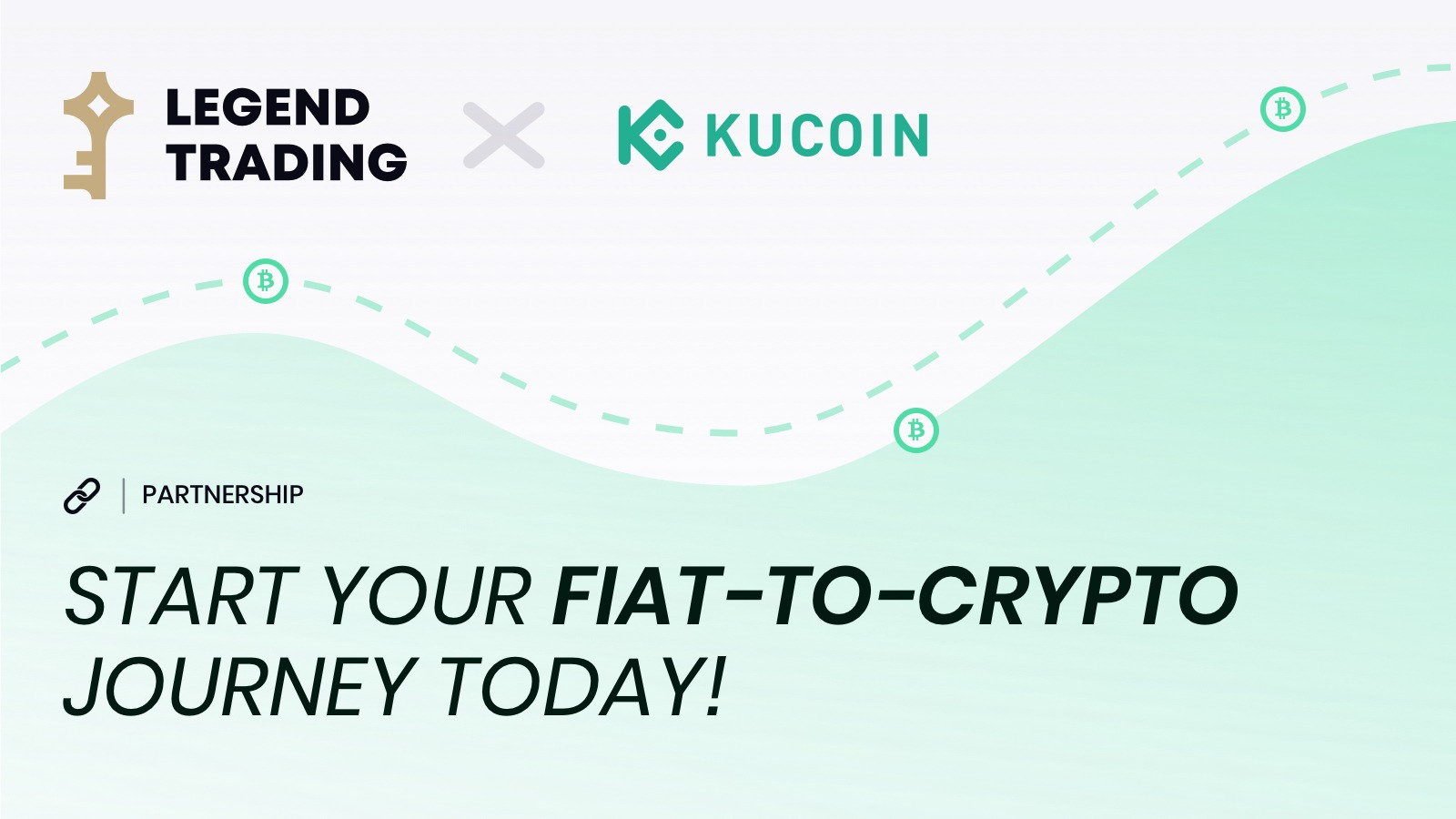 Leading cryptocurrency exchange KuCoin and reputed fiat-to-crypto payment service Legend Pay are announcing a powerful new collaboration to increase liquidity, fiat on-ramp capabilities and decrease transaction costs for retail traders buying crypto on exchanges. The new integration allows customers to buy and sell cryptocurrencies via bank transfers.
The popular crypto firms will launch a new institutional-grade trading service that provides users with compliant access to the most competitive fiat-to-crypto on-ramp, scaled liquidity, and the ability to make bigger bank transfers.
The Partnership allows users to transfer large fiat sums into crypto accounts, easily
A chronic headache for exchanges is the inability of their customers to transfer large enough funds from their bank accounts into their crypto trading wallets due to regulatory limitations. These restrictions force customers to move limited small amounts of money daily in order to purchase cryptocurrencies.
These daily crypto deposit and withdrawal limits of between $1,000 to $5,000 make it very hard for crypto investors to strategically invest in fast-moving cryptocurrencies and cash in on short-term price volatility.
KuCoin's new alliance with Legend Pay, a regulated US money services business compliant with the BSA and AML/CFT regulations, will allow its users to seamlessly purchase cryptocurrencies, using over 7 different fiat currencies, in institutionally-sized orders, via SWIFT, ACH, SEPA or FPS.
Legend Pay's extensive local banking network enables the US OTC trading giant to facilitate massive fiat-crypto trades. Its powerful trading and settlement services allow users to purchase and receive their crypto assets in seconds.
Deep liquidity to lower price slippage and cost of trading
Legend Pay's institutional-grade trading service allows access to the most competitive fiat-to-crypto pricing and deep liquidity.
This is achieved by Legend Pay's leveraging of its wide range of market and exchange integrations, its proprietary technology to analyze pricing and volatility data points in milliseconds and thereby providing deep liquidity with minimal slippage.
KuCoin CEO Johnny Lyu said the following:
Fiat on-ramps are the gateway for new crypto users. To allow all users to buy crypto with ease, KuCoin currently supports 50+ fiat currencies and over 70 payment methods such as VISA, PayPal, Mastercard, and more. Partnering with Legend Pay will provide even more trading options to the crypto community and enable KuCoin to expand its accessibility globally.
Legend Pay COO Curis Wang commented:
Legend Pay is glad to partner with KuCoin, one of the most innovative exchanges in the world, and excited to help bolster its services to clients.
Our company has been very successful in providing OTC services to professional institutions. Now we are bringing our services to the much bigger retail-user market by offering a fiat-to-crypto gateway. We hope that our solution will help the major institutions and accelerate the broad adoption of cryptocurrency eventually.
To achieve this, we are leveraging our expertise in compliance, trading, global payment, banking, for varieties of platforms or applications like exchanges, wallets, NFT marketplaces and more, to create a smooth fiat on-and-off ramp user experience.
Want to learn more? Simply submit a ticket and our support team is ready to assist!
Legend Trading
The leading US-regulated crypto trading firm trusted by 500+ institutions in a compliant way around the globe.
—-
For more information, please visit: https://legendtrading.com/
For updates on everything Legend, follow us on Twitter!